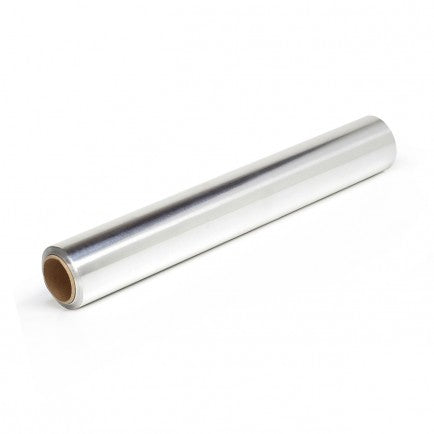 ChicWrap® Refill Roll Professional Grade Aluminum Foil 12" x 100'
Regular price $15 Unit price / per
Our exclusive Professional Grade Aluminum Foil for use in all ChicWrap® Foil Dispensers is used by professional chefs in commercial kitchens everywhere. Our amazing foil is heavier, thicker and stronger than store bought brands.
One size fits all! Choose your style of dispenser (not included) – no matter what ChicWrap foil dispenser, the Aluminum Foil Refill Roll by ChicWrap fits in oh so nicely. Those chicken nuggets, mini pizzas, and more are waiting for just the layer to lay upon to come out crispy and golden brown.
Professional grade in all regards, the refill roll emphasizes reliability with every lined pan and cooked meal with its Extra Strength HTS, or Heavier Thicker Stronger, design, a commercial kitchens go-to tool for every task that calls for it. In addition, that extra strength is rather valuable for covering casserole dishes, bowls, and more to preserve foods longer in the fridge or freezer.
Whether you're in a heavy traffic kitchen or at home preparing lunch, the ChicWrap Aluminum Foil Refill Roll is just one drawer or dispenser away before you shut that oven door.
Details: Our Professional Grade Aluminum Foil is FDA approved and Kosher certified.
Aluminum foil refill roll
A useful tool for cooking and storing foods
Extra Strength HTS (Heavier Thicker Stronger)
Dimensions: 12" x 100'
Made in USA