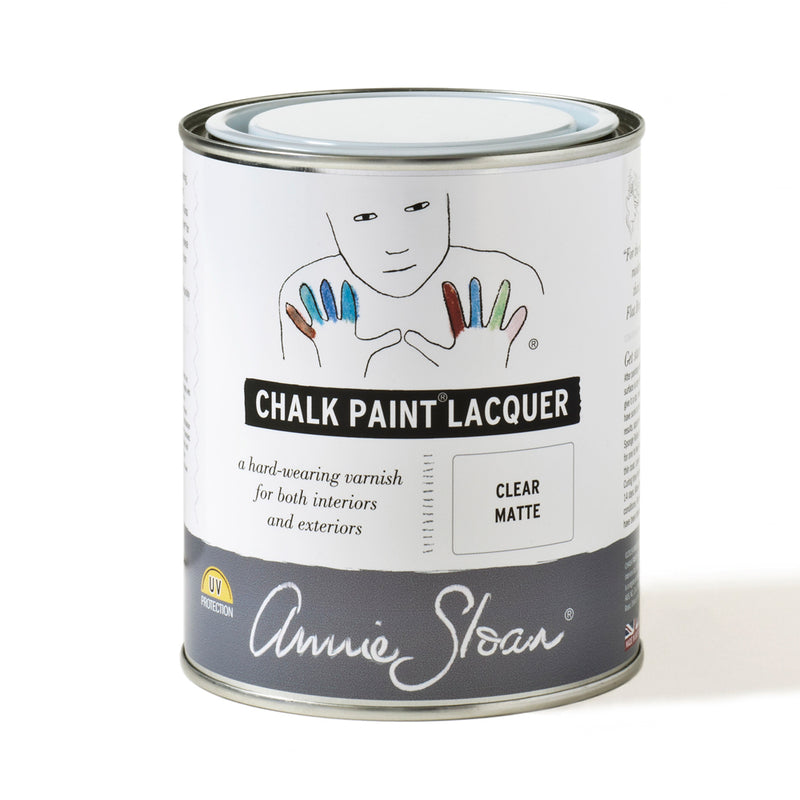 Annie Sloan® Lacquer Clear Matte - 750ml
Regular price $50 Unit price / per
Annie Sloan Matte Finish Lacquer - Both for Interior and Exterior Use! Lacquer CANNOT GO OVER WAX!   If using for OUTDOOR...it  is best to wait 14 days after final application AND....make sure you covered 100% of all surfaces...including the bottom of the feet or beneath the piece.  
USING THIS OVER A DARK COLOR PAINT?  =>    KEEP IN MIND.....as with any matte finish product, it is recommended that you use a gloss finish first , then apply the matte when going over darker colors. The flatterers in the product that give it a matte finish will show as a cloudy look over dark colors. You have to cover with a gloss first.
This is a new product as of May 2019.   Annie Sloan created a clear matt Lacquer that is water based varnish for painted floors or heavily used furniture items, particularly for those painted with Chalk Paint® decorative paint by Annie Sloan. Pay attention when ordering because we also carry a GLOSS!    I do not typically use Annie's Lacquer on cabinets.  I would typically use 
Annie's Clear Wax
 or the Artisan Enhancements Clear Finish or Clear Topcoat Sealer. 
*****     This lacquer can be used both indoors and outdoors!   *************  
Annie's new Lacquer is suitable for outside use on garden furniture.  We have found that customer expectations are better met when using Annie's Lacquer, especially on seats and tables etc.   However, on exterior fences, sheds, walls, brick, stone etc - applying a topcoat is not necessary.  The outside of Annie Sloan's warehouse was painted in Primer Red in 2016 and still looks great!    If painting on exterior concrete, Annie's Lacquer can absolutely be used, but keep in mind, that Chalk Paint takes extremely well to concrete and you will probably find it is unnecessary (except perhaps to protect colours from fading).