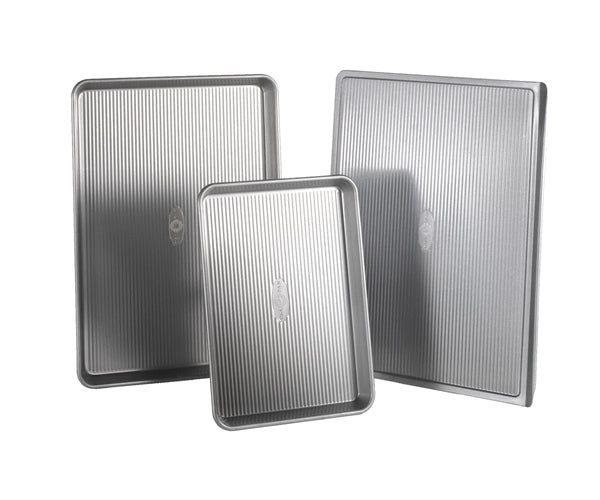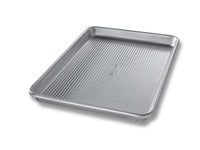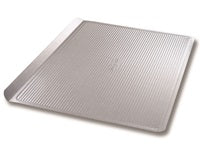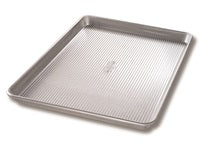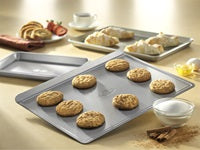 USA PAN® 3 piece Bakeware Set
Regular price $65 Unit price / per
The USA PAN® Large Cookie Sheet, USA PAN® Quarter Sheet Pan, and the USA PAN® Half Sheet Pan make up this classic three piece bakeware set. This set is perfect for a number of everyday baking needs.
Enjoy your favorite homemade baking recipes like chocolate chip cookies, baked vegetables, French fries, pizzas, and more.
The baking surfaces of all 3 pieces are coated with AMERICOAT®, a non-stick silicone, allowing you to easily release your baked goods from the pan. AMERICOAT® is made without PTFE, PFOA and BPA. USA PAN®'s professional grade bakeware helps everyday home bakers produce professional grade baked goods.
USA PAN® is a Bundy Family owned company, based in the Greater Pittsburgh, Pennsylvania area.
Made in the USA
Unique fluted design that faciliates air circulation and maximizes pan strength to help resist warping
Made with the same standard high-performance features used for bakeware used in commercial bakeries
Nonstick coating for easy release and quick clean-up.
Limited Lifetime Warranty for the life of your use
Pan made in USA from globally sourced materials
It is not recommended to exceed a baking temperature of 450°F (230°C). Because USA PAN® Bakeware conducts heat efficiently, we suggest monitoring the oven temperatures and baking times for the first few uses and reduce time and temperature as necessary. Hand wash bakeware in warm water with mild dishwashing soap using a sponge or nylon pad, rinse and dry thoroughly. Do not place in dishwasher. Follow recipe instructions, greasing and flouring as directed. Use of cooking spray is not recommended. Use only silicone, nylon or wooden utensils. Do not use sharp metal utensils.