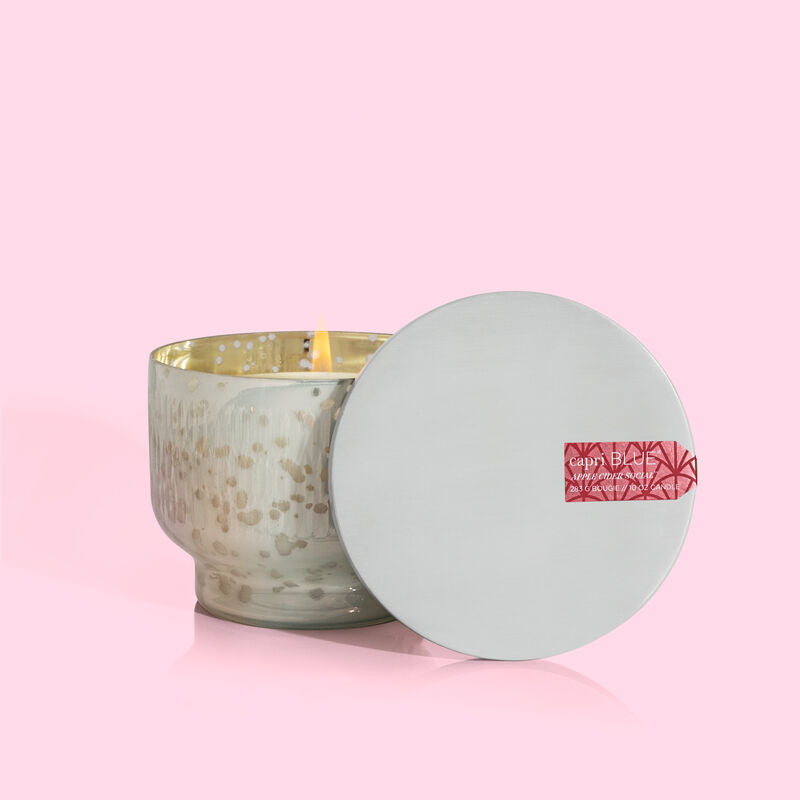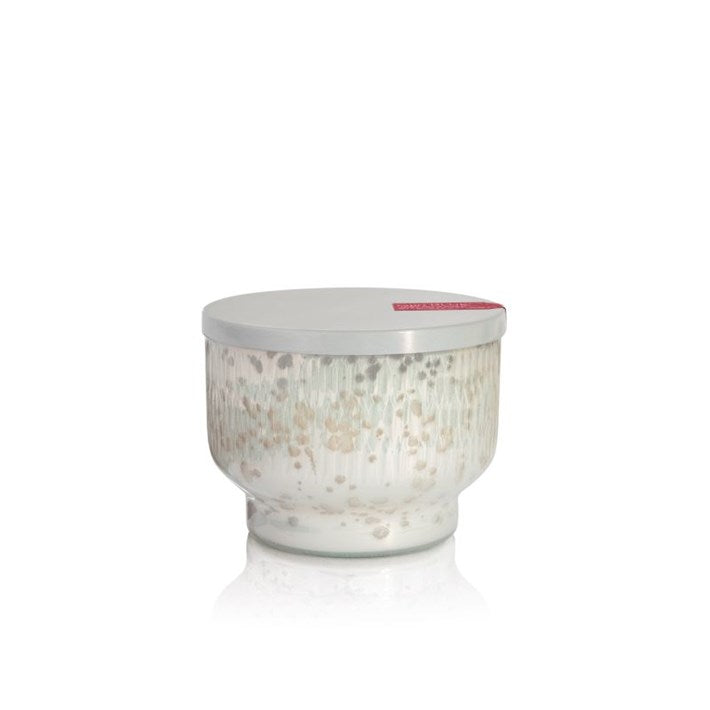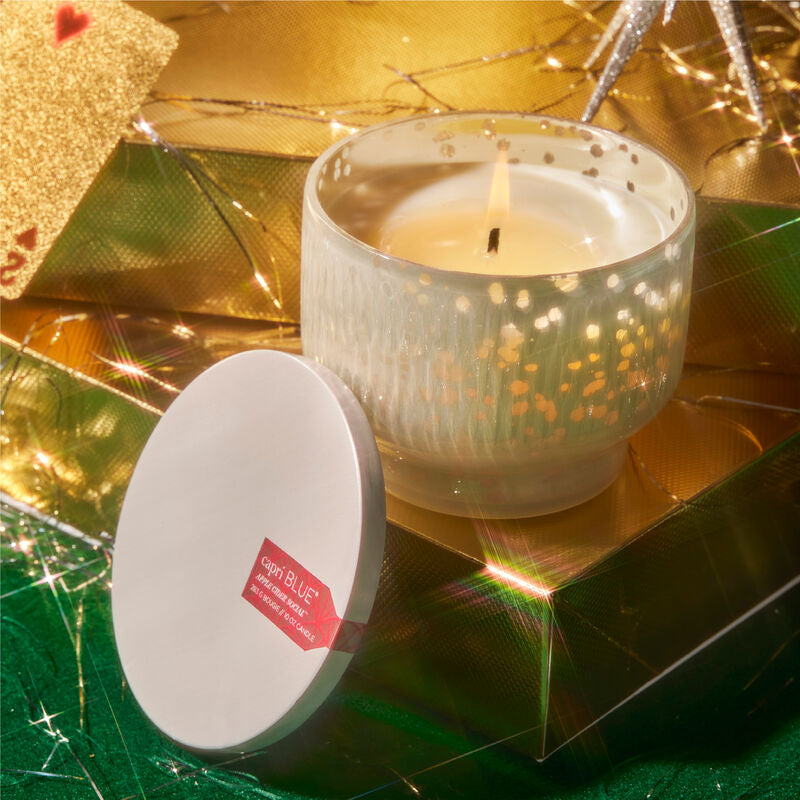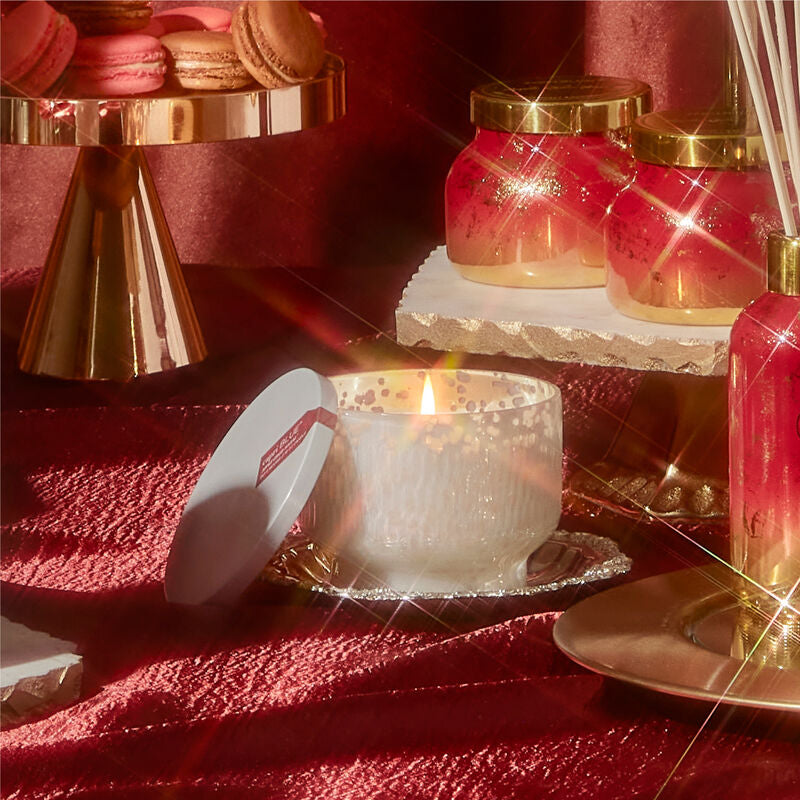 CAPRI BLUE - HOLIDAY MERCURY - APPLE CIDER SOCIAL INVERTED JAR CANDLE, 10 oz
Regular price $32 Unit price / per
Look no further for your fav apple candle! Presenting our Apple Cider Social Holiday Mercury Inverted Jar. This petite beauty features a mercury pearl etched finish and will fill your space with notes of crisp apple, cinnamon, juicy pear with grated clove, and fresh nutmeg. Whether you're baking some fall treats or popping open a bottle of bubbly, this candle will fit the scene perfectly.
Burn Time: up to 50 hours Dimensions: 3.16"H x 4.05"W Weight: 10 oz
Cheers! Our Holiday Mercury collection will put you in the perfect mood for a festive party. Each fragrance is available in a mercury pearl etched finish and is topped with a white gold lid. Differentiated by a metallic foil label, you can pick your fav holiday fragrance and ensure you get this stunning design.
Whether you're a Volcano fanatic or a lover of all things Capri Blue, chances are you have a couple candles (or 20) scattered throughout your home. And there's actually a proper way to burn them! Who knew there was a right and wrong way to burn a candle!?
Have you ever burned our Signature Jarand had wax leftover? Chances are you aren't burning it long enough. Our larger candles are meant to be burned for longer periods of time, so if you're not up for burning your candle for 5-6+ hours then try one of our smaller vessels like our Travel Tin or Mercury Found Glass!
Here are a few easy steps to make sure you're getting the most out of your favorite candle!
No.1
Always allow your candle to completely liquefy across the top before blowing it out to avoid tunneling
Think of it this way – candles have a memory. Wherever it stops burning the first time, it will continue to stop there every time you burn it causing it to tunnel if it has not liquefied all the way across.
No. 2
Always keep your wick trimmed to ¼"
And remember to trim your wick before the first burn, too.
No.3
Don't drop debris, like matches or wick trimmings, into the wax
#SafetyFirst!
No.4
Don't place your burning candle on sensitive or uneven surfaces
And, of course, never leave your burning candle unattended.
No.5
Discontinue burning your candle when about ½" of wax remains
Don't fret. It's normal and necessary to have a little wax leftover so that you don't expose the bottom of the wick.
No. 6
Repurpose that beauty!
Our containers are designed for reuse, so don't let that gorgeous vessel go to waste! For tips and tricks on re-purposing our fab jars see (repurpose candles) here.
So the next time you go to light your favorite candle remember these simple tips and let Capri Blue do the rest ;)